Since 1964, Live Oak Jewelry has been providing top-quality services at affordable rates. Our skilled experts can repair any and all types of jewelry. We also offer a full-line of jewelry products to meet the needs of every taste. Our affordable services include:
Jewelry sales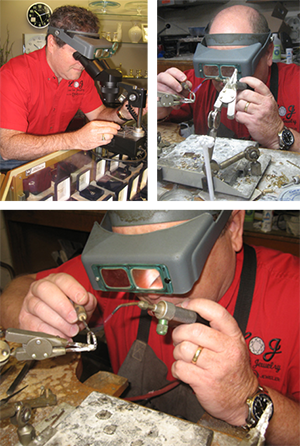 Products: Live Oak Jewelry offers gorgeous products for every occasion and style. Our beautiful pieces include engagement rings, wedding rings, class rings, bracelets, pendants, necklaces, ornaments, clocks, watches, loose diamonds and more.
Inventory: Our selection includes a wide range of inventory on-site. We are also happy to special order pieces to meet your custom needs.
Financing: Our products include fashionable pieces for every budget. We offer financing and layaway options to work with your financial needs.
Jewelry repair
Specialties: With 64 years of combined experience, we are equipped with the knowledge and skill for all types of jewelry or watch repair in Live Oak, Suwannee County, Wellborn, McAlpin, and Branford, FL. Our specialties include necklaces, pendants, stone settings, stone replacements and diamonds.
Watches: Watch repair is one of our specialties too! From modern time-pieces to family heirlooms, you can trust your favorite watch to our experts.
On-site repair: Most repairs are completed on-site by the owners. This means you'll be speaking directly with the person who will be repairing your engagement rings and other jewelry.
Off-site repair: Occasionally, special products may require off-site repair. We ensure your piece is handled professionally and returned to you better than new.
Free estimates: We provide free estimates for all repairs. We will give you a cost and time estimate up front, so you can make an informed decision about your jewelry or watch repair.
Live Oak Jewelry is a proud member of the Independent Jewelers Organization. As a leading jeweler, we are pleased to offer the following top brands:
Citizen Watches
Seiko Clocks
Royal Chain Group
Galatea
Contact us today at 386-362-1140 for fine jewelry and watch repairs at affordable rates. We look forward to making your wedding rings and other diamonds sparkle again.